In 1995, when Bro. Graf was a teenager, the youth pastor of Trinity Baptist Church, Bro. Tom Davis, knocked on Bro. Graf's door and led him to the Lord. It was at Trinity Baptist Church where Bro. Graf would meet his future bride Leeanne who began attending TBC at the age of eight. Bro. and Mrs. Graf married in 1997 and have six children: Olivia , Trey, Lexi, Thomas, Melody, and Joseph. They had the opportunity to serve in numerous capacities at TBC, Arlington for 15 years before coming to Sanger. From Sunday School teachers, bus workers, Children's church workers/leaders, choir members, deacon, interim youth pastor , etc. there was plenty of opportunity to learn and grow while ministering to others. Mrs. Graf also had the opportunity to be the church pianist for TBC and Dr. Bob Smith for over 12 years.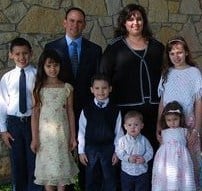 In 2010 Bro. Graf graduated from Trinity Baptist Bible College with a Bachelors of Science in Pastoral Theology. In November, the Gospel Light Baptist Church of Sanger, TX called Bro. Graf to be their pastor. The Graf family moved to Sanger excited about the opportunity to serve the Lord in such a capacity.
In December of 2011, the pastor of Tabernacle Baptist in Sanger contacted Bro. Graf to see if Gospel Light would be interested in merging since he would soon be leaving to prepare for the mission field. After much prayer and fasting, both churches voted independently and unanimously to pursue a merger and Victory Baptist Church was formed in February 2012.




Note from the Pastor:
Thank you for visiting our website. I hope you will not only visit us online, but also come and visit us in person. VBC is a growing church with a desire to draw closer to the Lord and see others grow with us. In a day where everything seems to be changing we are glad to serve a God who is "the same yesterday, and to day, and for ever." (Heb 13:8) VBC strives to be just the same, an old-fashioned church, with an old-fashioned God, reading the old-fashioned Book, and teaching people about the old-fashioned salvation the old-fashioned way. We love guests and will do our very best to make you feel welcome. At Victory Baptist Church we intend on exalting our Lord Jesus Christ and sending the Gospel throughout Sanger and Denton County.
If you are looking for a church that is sincere about serving God, and reaching others for Christ, VBC may be the place for you. We want to extend a personal invitation to you to visit with us. If we can be of any help, please contact us through email (
pastor@v
ictorybcsanger.com) , snail mail, or by telephone (940) 300-1147. God surely has blessed VBC and we would be more blessed to get to know you and your family.
For His service,
Robert Graf, Pastor
II Cor 4:18